Car Shipping Container: What You Need To Know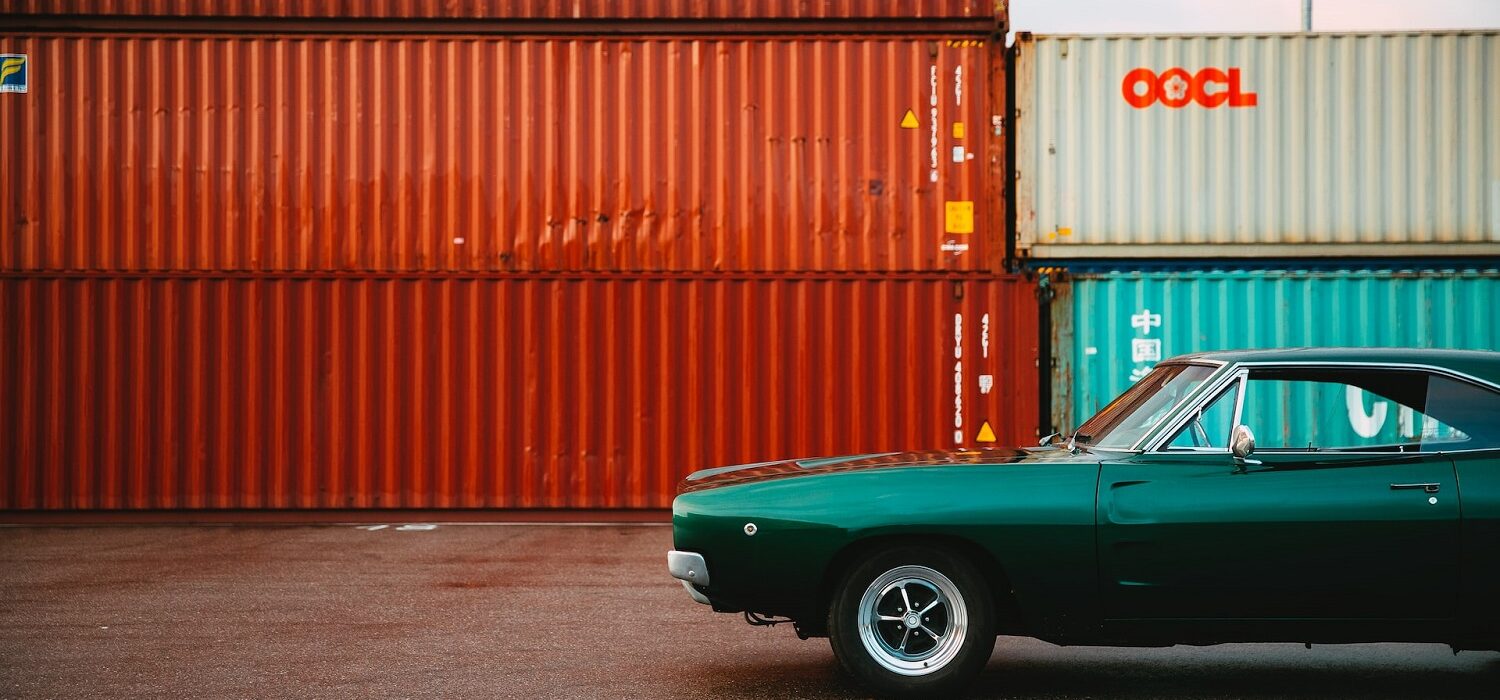 In international shipping, containers have been used for decades. You can see them as LEGO-like metal blocks of various sizes, all stacked neatly and lining up the ports. The most common way of transporting cars is through RoRo shipping.
But if you can also move your goods alongside your vehicle, why not consider a car shipping container? In this article, we'll discuss everything you need to know about containers, from how they work to the cost of containers and their benefits.
You'll also learn about the documents and customs processes required for shipping your car through a container.
Car Shipping Container: An Overview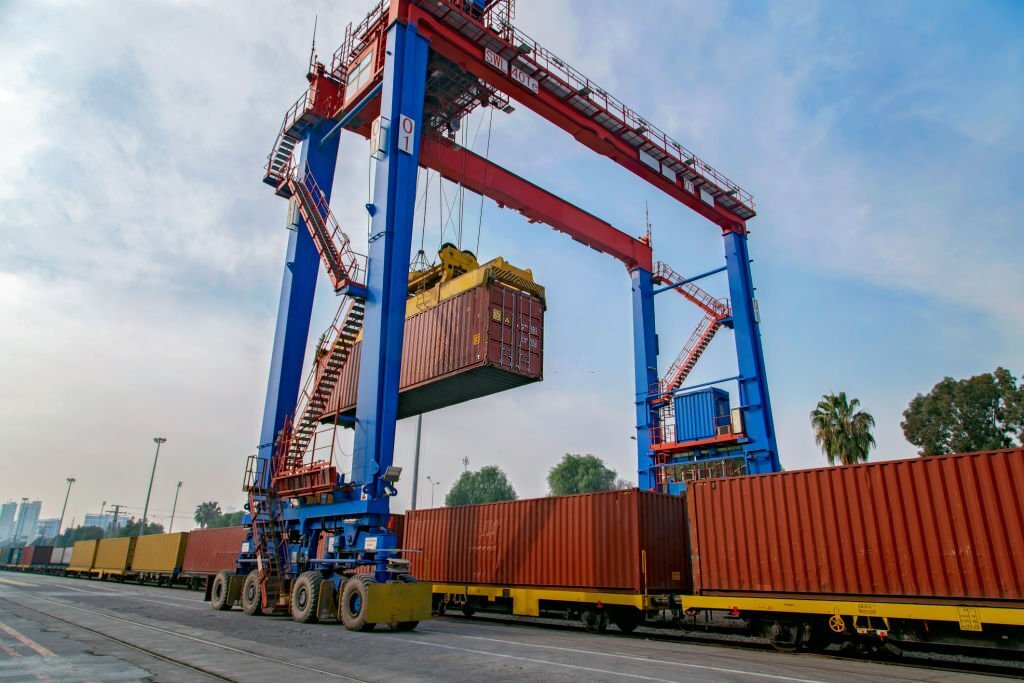 Whether you are shipping your car locally or overseas, containers can provide better protection, especially for luxury cars and fragile products. You may wonder if a car can fit in a shipping container. The answer to this query is an absolute yes. You can, in fact, ship more than one car in a shipping container.
Containers come in different standard sizes, all designed to support vehicles, heavy machinery, and equipment. Usually, there are two standard sizes that most shipping companies offer. They are 20 and 40ft. Both share the same height and width but differ in length.
The 20ft container is 8ft-6 in height, 8ft wide, and 20ft in length. While the 40ft container is 40ft in length, 8ft in width, and 8ft-6 in height. There is another 45ft container that comes in a high cube standard size. It has an 8ft width, 9.5ft height, and 45ft length. 
Moreover, a 20ft container can fit one to two regular-sized cars, and a 40ft container can accommodate three to four regular-sized vehicles. Whereas a 45ft high cube shipping container car storage can fit four to five regular-sized cars.
How do Car Shipping Containers work?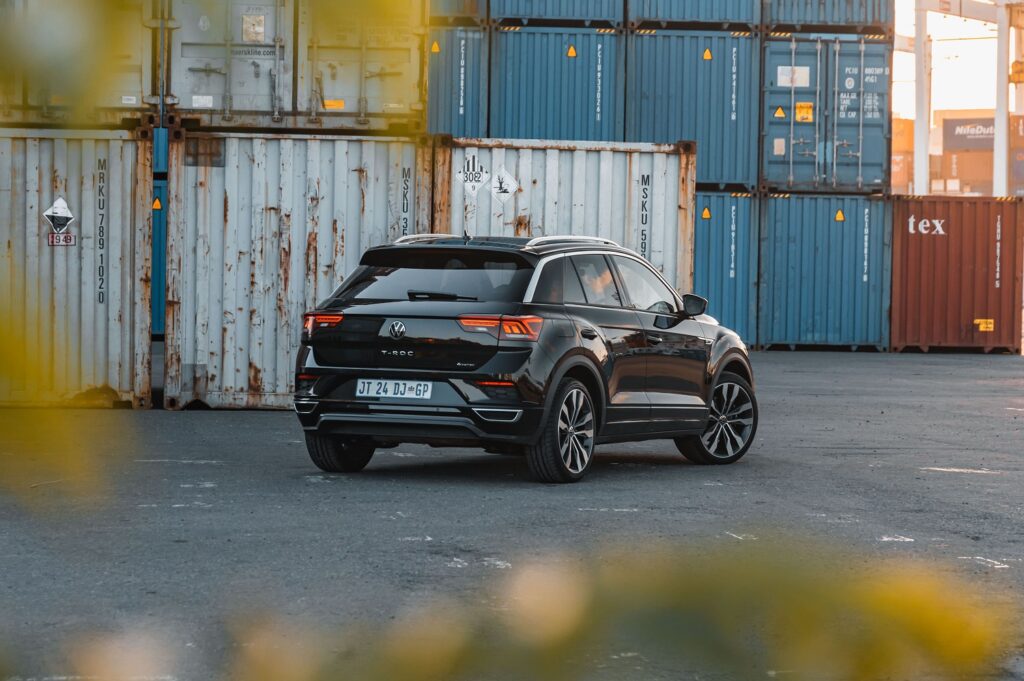 Unlike RoRo shipping which involves rolling the car on the ship and driving it off after the ship reaches its destination, container shipping requires loading. Your shipping company will use a particular loading procedure when you deliver your vehicle at a container port.
A crane operator will use a forklift to load the car inside the container. The laborers will brace your car's wheels and strap them to the corners of the container. If your vehicle is a motorcycle, the labor will lash the front and rear wheels with towing eyelets.
If you are shipping a boat, your shipping company will put it inside a cradle before loading it inside the container. Pallets inside the container will also protect your cargo from moving. Furthermore, the fully enclosed metal walls protect your cargo from environmental hazards.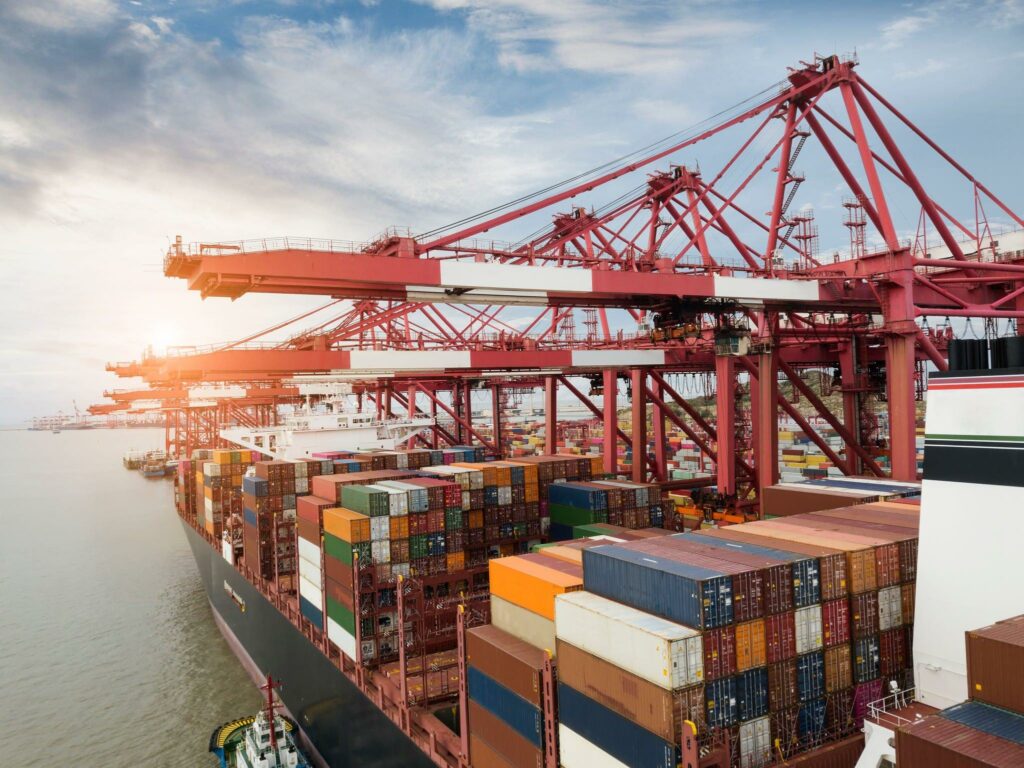 Thanks to its booming shipping industry, the USA is home to some of the world's largest seaports, including container ports. In fact, the largest ports in the USA account for 89.9% of the world's global trade. Here is the list of the major ports in the USA ranked according to their TEUs, meaning their container cargo carrying capacity:
Port of Los Angeles
Located in California, the Port of Los Angeles is the largest port in the USA. It is also the busiest regarding transpacific trade. This port offers a major container ship facility and is the only deepwater port in California to support fully loaded post-Panamax ships. It has a capacity of 9,079,561 TEUs annually.
Port of Long Beach
Located in California, the Port of Long Beach houses six terminals and is a crucial entry point for trade inside the USA. It is the second busiest port in the country and an important commercial harbor accounting for $180 billion in annual trade in the USA. This port can support 7,884,565 TEUs annually.
Port of New Jersey and New York
Located along the stretch of river from Upper New York Bay to Elizabeth, New Jersey, the Port of Newark is the largest natural harbor in the world. It is home to fifteen cargo ports for handling general cargo, container shipping, and passenger ships. This port can support 7,455,786 TEUs annually.
Port of Savannah
The Port of Savannah is a major container seaport located on the southeastern coast of the USA. It is the 4th largest port regarding container shipping. This port and the Port of Brunswick make up the primary shipping ports of Georgia. The Port of Savannah can support 4,682,255 TEUs annually.
Benefits of using Car Shipping Containers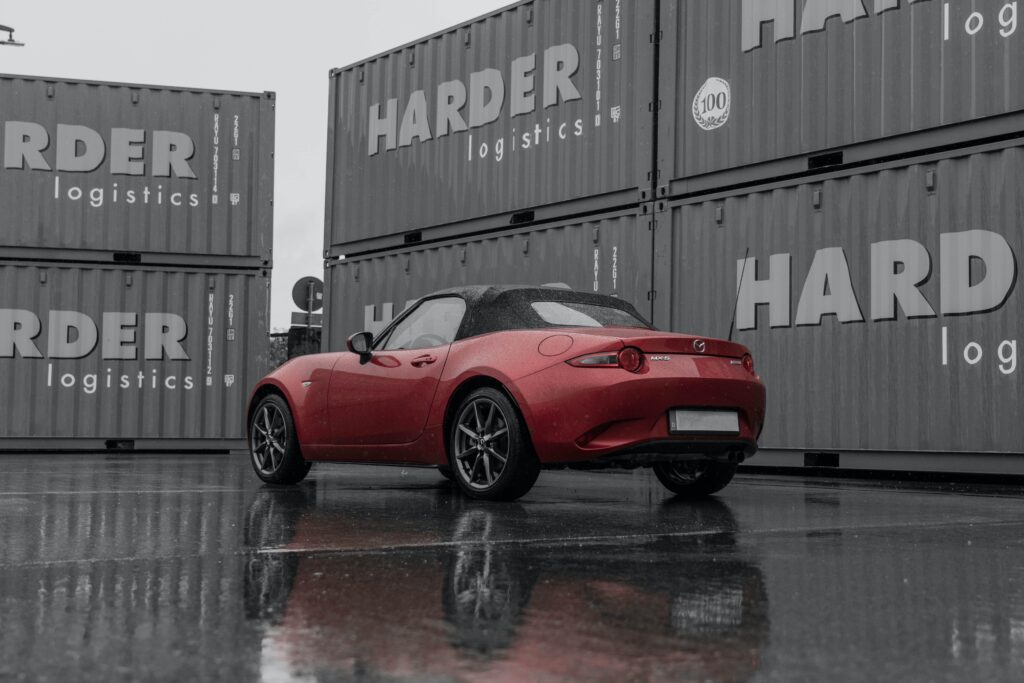 There are several benefits to a car shipping container. They include:
Additional security
Once the shipping company locks the container after loading your car, no one can unlock it during transit. This reduces the chances of theft and tampering. Also, your cargo will be safe from weather and damage because of the steel walls.
The locking mechanism ensures that the goods don't spill out, and the ratchets securing your car inside prevent it from moving inside. There is also a computerized system installed in the containers that helps track them during the journey.
Ability to ship a wide range of goods
Containers offer versatility in terms of the goods you can ship. From vehicles to personal effects, household goods, machinery, equipment, and boats, you can send anything.
You can also use containers to transport raw materials, chemicals, liquids, refrigerated and fragile items, and perishable goods. They offer ample storage for bulkier items while you can bundle smaller items into boxes and load them inside.
Availability of container routes
Some ports or routes, especially in smaller countries, may not offer RoRo service, but container shipping covers almost all routes worldwide. Their design and ISO certification make them suitable for transporting cars and goods across borders, within a country, and both long and short distances.
In addition, their design allows them to be double-stacked on ships or trains and transported using different modes such as by roads, ocean, and rails.
How much does a Car Shipping Container cost?
Depending on its size, a car shipping container can cost anywhere between $1000 to $4500 for local transport, excluding any additional charges. For cross-country transport, especially from the West to the East coast, container shipping costs start from $1200.
But if you are shipping a car overseas, the container shipping cost will depend on the distance traveled and can fall between $1500 and $7000. Although it is the most expensive shipping option, it offers additional security if you are sending goods alongside or shipping luxury cars.
However, the overall car shipping container costs can vary based on various factors.
Factors Influencing the Car Shipping Container Costs
Here are the factors that influence container shipping costs:
Container shipment method
There are two more options in container shipping. The one you choose will determine your final shipping costs. If you choose Less than Container Load shipping (LCL), the price will be less to ship your car. LCL involves sharing the cost of renting a container and its space with other shippers' goods.
So, you'll only have to pay for the space your goods occupy, reducing shipping costs. On the other hand, Full Container Load (FCL) is expensive as it involves renting an entire container.
As it will be for your exclusive use, you'll also have to pay for renting the full container. However, this method will give you complete peace of mind and is an excellent option for shipping luxury vehicles or fragile items.
Vehicle type and size
While preparing to ship your car, this is the primary factor determining the transportation cost your shipping company will ask you to pay. The make and model of your vehicle will determine the final shipping cost.
Some companies will charge based on the type of vehicle you are shipping, such as an SUV, truck, or car. While others will charge based on how many pounds your car weighs. Therefore, the heavier and larger your vehicle is, the more it will cause an increase in shipping costs.
Your shipping company may also charge additional fees for your luxury vehicle due to the effort they'll put in to keep it secure during transit.
Customs taxes and duties
If you are a car shipping container overseas, you'll have to bear in mind that each country has its own import rules. You'll have to pay taxes and duties for importing your car, increasing your container transportation costs. Besides, these taxes are subject to change, so your final shipping costs can vary.
But it's best to reach out to your shipping company or destination country's Embassy in the USA to learn about the latest customs taxes. Additionally, you must also know about the list of prohibited and restricted items to avoid accidentally shipping those items.
If you did, it might result in your shipment being barred from entering the country or a penalty or double taxes. Some standard taxes and duties that customs may charge include taxes based on the age and condition of your car and inspection fees.
Documentation cost
While shipping your car overseas, you'll also have to prepare some necessary documentation for import purposes. There's a small cost to pay for paperwork, but it's noteworthy. As you'll need to submit them in both the USA and your destination country, your documents must be proper and include the correct information.
Otherwise, you may incur a double tax or penalty, increasing your shipping costs. The standard documentation you'll need includes the following:
ID and Passport.
Driver's License.
Bill of Lading.
Vehicle Registration Certificate.
Original Invoice.
Title of Ownership.
Proof of Insurance.
Conclusion: Are car shipping containers worth it?
You may be wondering, can a car fit in a shipping container? The answer is you can ship as many cars as can possibly fit inside a container, depending on whether you've chosen a 20 or a 40ft container. In fact, a car shipping container is the safest method out there whether you want to ship your vehicle locally or overseas.
Their steel structure and reliable locking mechanism protect your vehicle from damage and theft. Besides, you can ship other goods alongside your car. With that said, AES offers personalized container shipping per the customers' shipping needs if you are looking for a car transportation company.
With vast experience in shipping internationally and locally, we understand the customs rules and regulations of importing globally. Our experts can help prepare the paperwork and handle your customs process without unnecessary delay.
We also provide door-to-port services for your convenience. Regardless of the size of your cargo, we offer the best transparent pricing in the market. Book your container shipment today at an affordable rate!
Frequently Asked Questions
Can you store a car in a shipping container?
Other than shipping a car, a container also provides good storage for your vehicle. Its metal body protects against hazardous elements, weather, and theft.
Can a car fit in a shipping container?
How many cars fit in a container depends on the size of the container. There are two standard-size containers of 20 and 40ft. Each one can hold a different number of cars. A 20ft container can hold one to two regular-sized cars, while a 40ft one can accommodate three to four regular-sized vehicles.
Many factors can affect the cost of shipping a car overseas, such as your vehicle type, the distance between ports, peak season, and shipment method.
Other blog posts you might like
---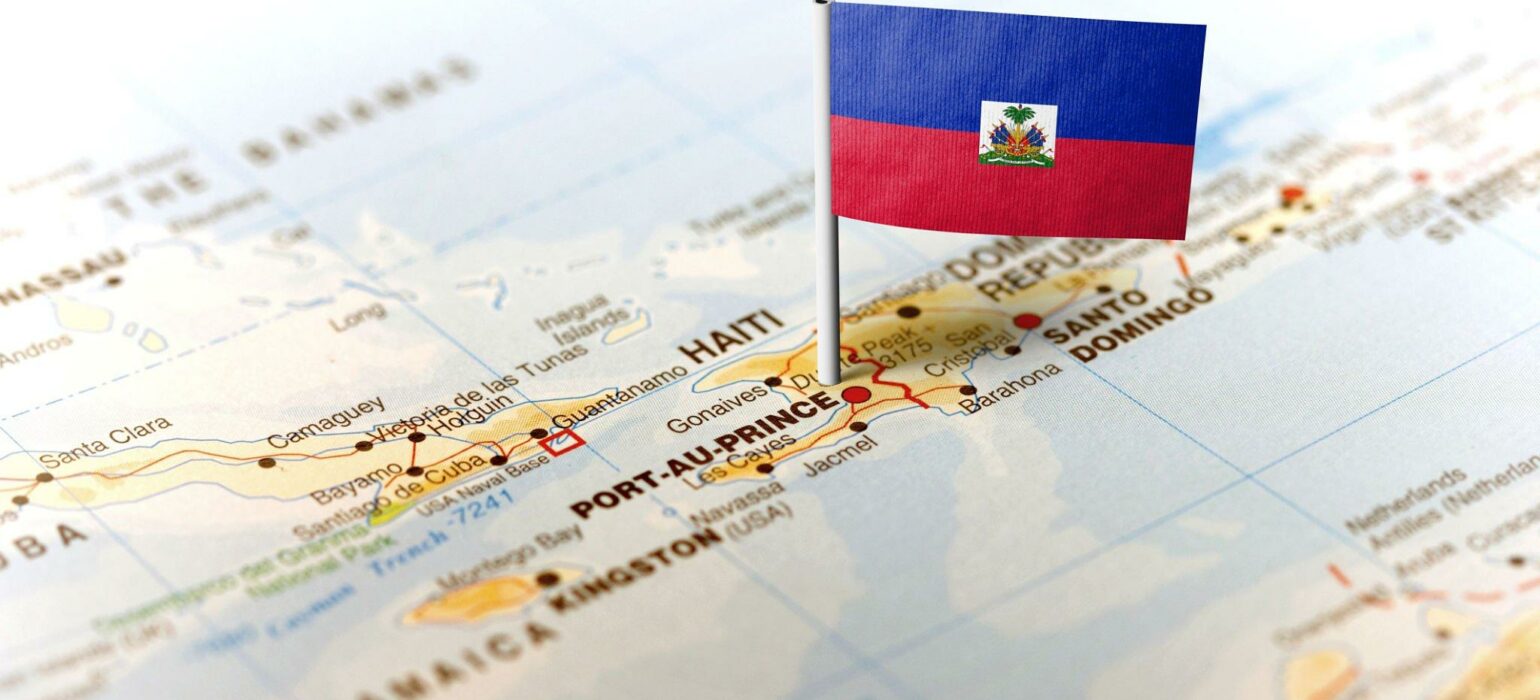 Feb 8, 2023
A Comprehensive Overview of Shipping Goods to Haiti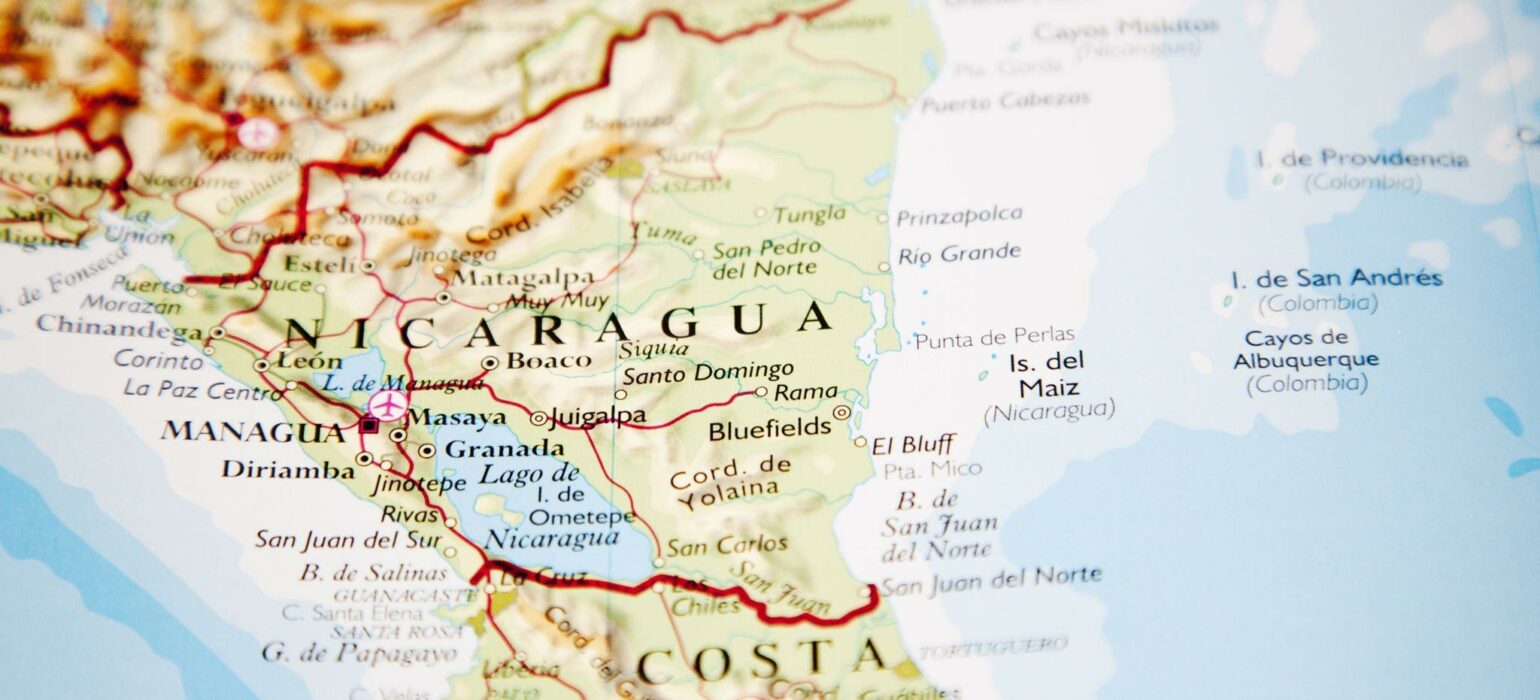 Feb 2, 2023
ENVÍOS A NICARAGUA DESDE MIAMI